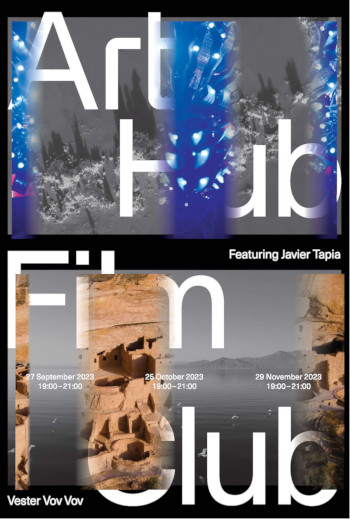 Art Hub Film Club i Vester Vov Vov
Art Hub Film Club - Liquid Light by Javier Tapia (27 min) - Travelling Dust by Javier Tapia & Camilo Ontiveros (28 min) English subtitles. Q&A after the films. November 29th, 2023, 19.00-21.00 Gratis adgang. Free entry.
Mere info
For this fourth season of Art Hub Film Club, we have invited former resident Javier Tapia and his filmmaker colleagues to host and curate a selected program of experimental documentary films that features the landscape and nature of North America, Central America, and South America as the main protagonist.
The selected films center around complex ecological landscapes and man-made changes, spectacular cultural phenomena, and geopolitical dilemmas.
See details about the programming below.
About Art Hub Film Club
Art Hub Copenhagen works to share knowledge of various forms of visual art practice: for example, by creating new, experimental contexts that can help nuance the multifaceted nature of contemporary art. Art Hub Film Club casts a spotlight on film, video and the moving image, and on the essential role these media play in contemporary art.
Art Hub Film Club featuring
- Liquid Light by Javier Tapia
-Travelling Dust by Javier Tapia & Camilo Ontiveros
November 29th, from 19-21
The third and last screening in the series is a double screening showing Travelling Dust (27 min) and Liquid Light (28 min) by Javier Tapia and Camilo Ontiveros. Below you can read about both films.
TRAVELLING DUST
A collaborative project by Javier Tapia and LA-based artist Camilo Ontiveros, Travelling Dust unveils and rearticulates assumptions about cultural trade, geography, nature, and the people of three communities of the Americas: Chile, Mexico, and Los Angeles.
Concerned particularly with the economic and cultural trade between Latin America and the United States, Tapia and Ontiveros investigate labor, informal economies, and migration from a multifaceted perspective, exploring themes of cultural adaptation, homeland, displacement, diaspora, borders, and minority status that speak directly to Los Angeles and its communities as paradigmatic site of exchange. Travelling Dust uncovers alternative and hidden histories for the contemporary moment via film and installation by excavating differences and forging connections between Los Angeles and Latin America.
The project brings the discrete places of Chile, Mexico, and Los Angeles into conversation through the display of collected objects from those places. Staged in the form of installation, the objects are exhibited on a custom-made sculptural platform, recreating a museum display. Considering questions of authenticity and origin, the installation includes original and archeological objects provided by pivotal collaborator, the San Gabriel's Mission Museum in East Los Angeles.
INFO
Travelling Dust (27 mins) by Javier Tapia & Camilo Ontiveros     
Genres: Documentary 
Duration: 27 minutes
English subtitles.
-----
LIQUID LIGHT
Liquid Light (2022) is a multimedia installation by Camilo Ontiveros and Javier Tapia. Water is the protagonist of the work, both in its abundance and in shortage. The installation traces the movement of water across the United States and Mexico. to raise questions about water scarcity, climate change, and human disruption to local ecologies. It is composed of wooden shelves, salt, water bottles collected during the work's production, rocks, photographs, and three-channels of video.
Liquid Light is anchored by a film that documents the life and pathway of the Colorado River, tracing its flow across numerous locales, from the top of the Rocky Mountains down towards the southern border at the Sea of Cortez. By following the path of this river, the artists recognize both the beauty and necessity of water while also marking the ways in which it can be monetized, contaminated, and politicized. The exhibition offers an immersive gallery experience, utilizing multi-channel video and sound to foster generative dialogues and new ways of understanding the geopolitics of the natural landscape.
INFO
Liquid Light (28 mins) by Javier Tapia & Camilo Ontiveros
Genres: Documentary 
Duration: 28 minutes 
English subtitles.